WEST HAVEN PUBLIC LIBRARY BOOKMOBILE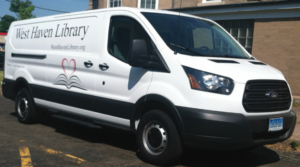 The NEW Bookmobile is here!!
For any questions, please email bkm@westhavenlibrary.org or call 203-937-4233 x 4533.
If you are over the age of 80 and/or physically unable to get to any of our branches, fill out the forms below and return them to the library to begin Bookmobile service!